Project Photos
Ceremoniously located along University Avenue, at the intersection of Toronto's primary cultural, institutional and retail anchors, the United Building connects past, present and future and seeks to accommodate the city's rich diversity. The building celebrates the grand civic boulevard while establishing an urban landmark public space on Dundas Street in the form of a galleria that enhances the City of Toronto's vision for one of its most prominent thoroughfares. Vertically connected to the subway within the building with a future internal link to the PATH system will complete the project's bond with the city's connectors.
"The United Building considers a new convergence of live, work, and play, emblematic of Toronto's cosmopolitan character."
– Mark Berest, Principal, B+H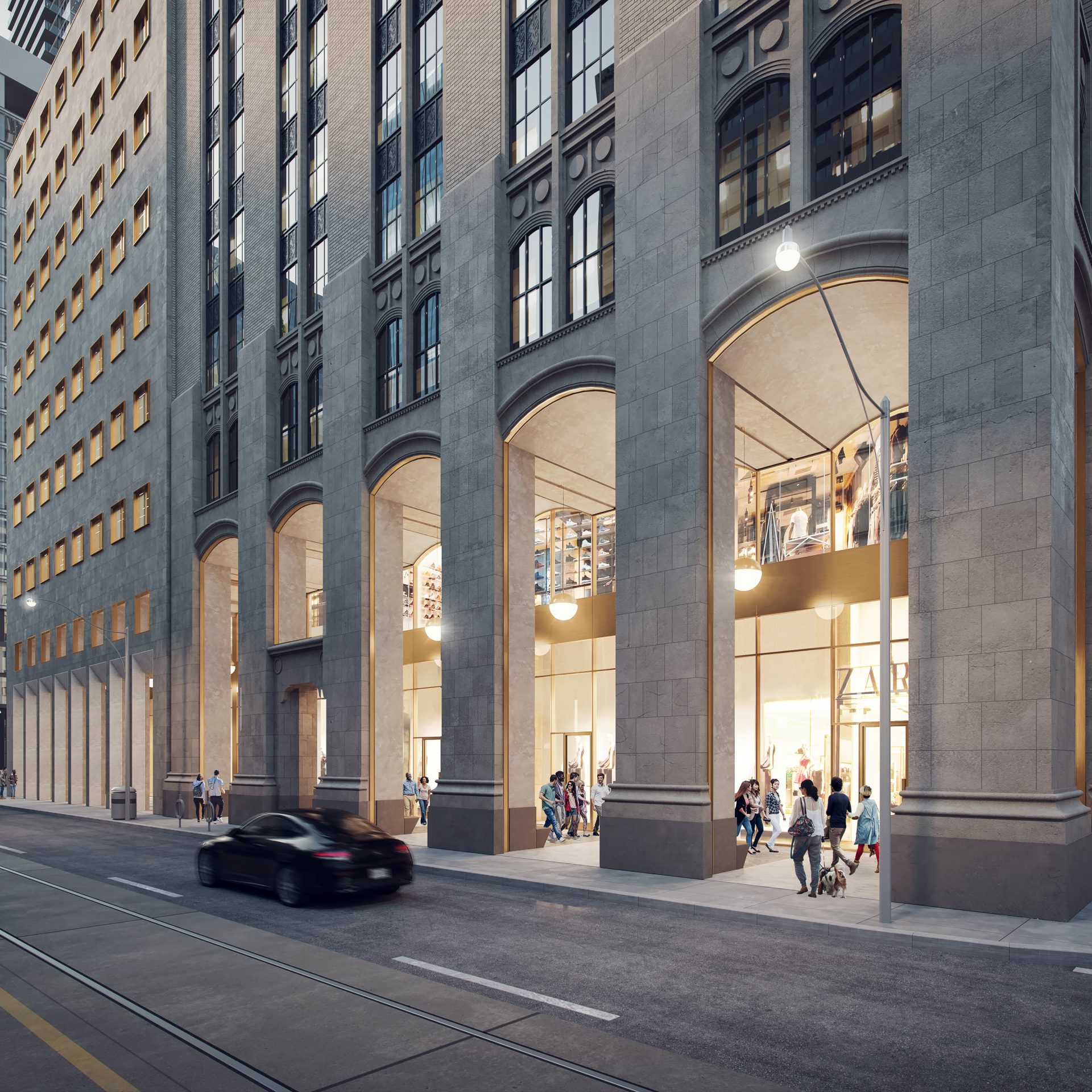 The design of the new development will maintain the original 9-storey office and retail limestone base and will remediate and restore historically significant facades, stripping away poor additions to restore and enhance the original beauty of the current building. The windows will be recreated in a historically-accurate manner and the delicate tracery of the original lead panel spandrels will be replicated. The bas relief sculpture created by Elizabeth Wynn Wood will be relocated from its current position along the north end of  the building to the south to allow for the creation of a new public colonnade, which we hope will inspire future developments to the east of the site to formally extend the colonnade eastward to further enrich Toronto's public realm.
The tower's graceful and dignified form fully encourages and maintains the contextual unity with the neighboring buildings while breaking from the past to introduce a clear, modern face. The tower massing block has been cleaved into two vertical halves with each section offset such that the south half of the tower sits proud of the north half like a jewel within a setting. This treatment creates two separate and composed slender towers.
On the North Tower, the limestone of the heritage building will be carried through in a distinct and lighter tone that is harmonious with the existing buff coloured limestone of the base. This serves to lift and elevate the residential podium, while providing a necessary bridge between the heritage building and the new, modern towers above.  The south tower will have no balconies on its east and west facades and instead will feature shear faces of capless curtain wall glass to enhance a crisp jewel-like quality.
Distinctly rooted in its heritage, the development defers to the distinguished civic and institutional history of University Avenue while immensely improving the urban realm with a bold civic gesture. The United Building is a new millennium update that claims a vision for the future.