Project Photos
Opening its doors to students in the fall of 2018, The Joyce Centre for Partnership & Innovation (JCPI) at Mohawk College's Fennel Campus in Hamilton, Ontario, is one of the region's first and largest net-zero institutional buildings. A joint venture by mcCallumSather and B+H Architects, the 96,000 square-foot facility is a catalyst for change in the region, positioning Mohawk College as a knowledge centre for carbon-neutral technologies and operations.
As both a national and global pilot project, the building helped determine the requirements and standards for the Canadian Green Building Council (CaGBC) Zero Carbon Buildings Framework and is contributing to the World Green Building Council's (WGBC) "Advancing Net Zero," initiative, a global project which aims to ensure that all buildings are net zero carbon by 2050, with all new buildings being net-zero carbon by 2030.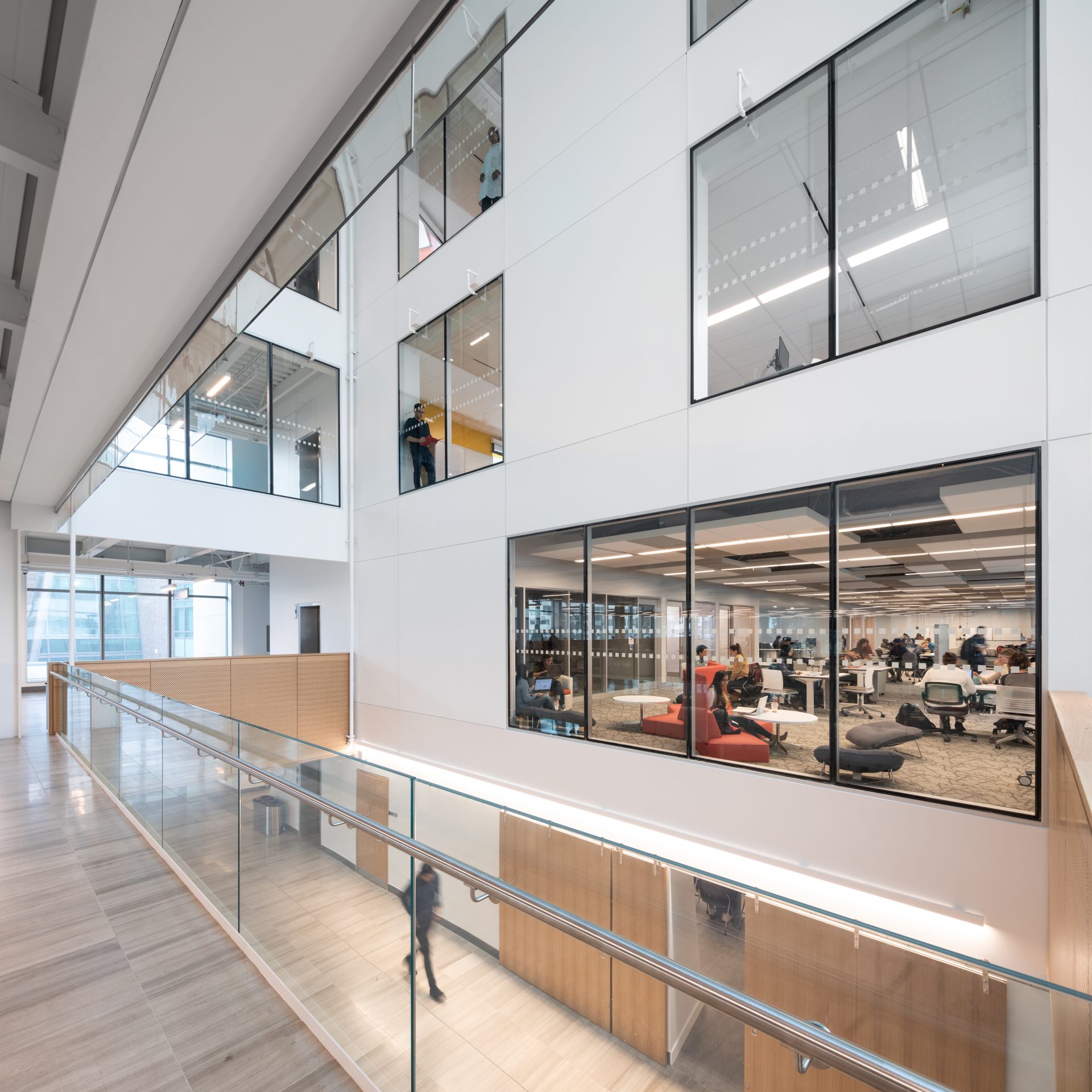 Driven by a side-by-side vigilant adherence to both the financial and energy budgets, accounting for the eventual energy consumption of all building sub-systems — e.g. including lab equipment, mechanical systems, and a realistic allowance for unregulated plug loads such as laptops—this all-electric building is designed to meet rigorous net zero energy and carbon performance targets and incorporates the latest in energy-efficient materials and processes. The Joyce Centre features solar-powered, state-of-the-art labs, workshops, open study spaces and flexible lecture theatres. The mechanical and electrical spaces, as well as the green roofs, are accessible to all and intended to be part of the learning environment.
"We believe employers will be looking to significantly boost their understanding of carbon-neutral technologies and operations due to provincial mandates. The Joyce Centre will allow us to become a knowledge centre for this emerging point of emphasis. We aren't just building a centre to house new lab space, in many ways we're building the lab itself." ~ Mohawk Collage Chief Building and Facilities Officer, Tony Cupido
The facility has created a new paradigm for both sustainable building and collaborative learning in North America and underscores a cultural shift in occupant behaviour from open energy consumption to personal accountability and to simultaneously foster collaborative work spaces versus classrooms to promote problem solving and learning where the best idea of staff or student wins. The building is making users aware of group collaboration and accountability as well as taking responsibility for the energy they are consuming.  This dual purpose of group work and accountability requires them to change their habits, from day-to-day actions such as charging laptops and mobile devices at home instead of plugging into the grid for hours on end to group problem-solving and open teamwork learning.  Satisfaction results of the layout and fit-up of learning spaces and the net zero carbon reduce consumptives responsibility placed on occupants is high.
"The building is an incredibly powerful symbol for the city and the region as it continues to evolve into a healthcare and educational hub," said McCallum. "It's reflective of current and future trends in sustainability and pedagogy and demonstrates leadership in a meaningful way, proving the public sector can drive change."