Project Photos
Surrounded by high-tech companies, the Canadian International School Kunshan (CISK) is in the Science and Technology Park of Kunshan City, a newly-developed educational district. Through an integrated and collaborative approach, our architecture, landscape and interior design teams in Canada and China worked together to design this international school to serve as a representation of the Canadian educational experience in Kunshan.
The new campus can accommodate up to 1,800 students ranging from kindergarten to middle school, with another 450 vacancies for future use. This first phase includes a primary and middle school with classrooms, a library, cafeteria, gymnasium, and administration areas. B+H planned this multi-phase campus with future provisions for a performing arts centre, library and dormitories.
The design was inspired by our client's mission statement to provide, "a welcoming, caring and learning school community", through an educational journey composed of a natural and harmonious environment. Drawing inspiration from the colours and textures of the Canadian landscape and the imagery of lakes, mountains, forests, and the maple leaf, our global team worked together closely to create a cohesive facility from the inside, out. The façade, composed of colorful fibre-concrete panels, Canadian Douglas-fir,  glass and aluminum, creates a sense of richness and a welcoming atmosphere for students and visitors.
The CISK establishes a new benchmark for design through a unified facility featuring spacious, inclusive, and flexible spaces that promote interactive learning and a sense of community. Applying principles of colour therapy, vibrant hues were selected to promote stimulation in active areas while neutral colours were used to encourage concentration in academic spaces.
The unique shape of the building complex is composed of two distinct sections: classrooms, offices and the gymnasium sit in the orthogonal grid of the complex; while corridors, the cafeteria and library are placed at the outer curvilinear edges. The philosophy behind this dynamic plan is to provide as much informal learning and social space as possible for students and staff. A network of outdoor green spaces and courtyards encourage interactions among the community while transparent materials blur the boundaries between interior and exterior spaces.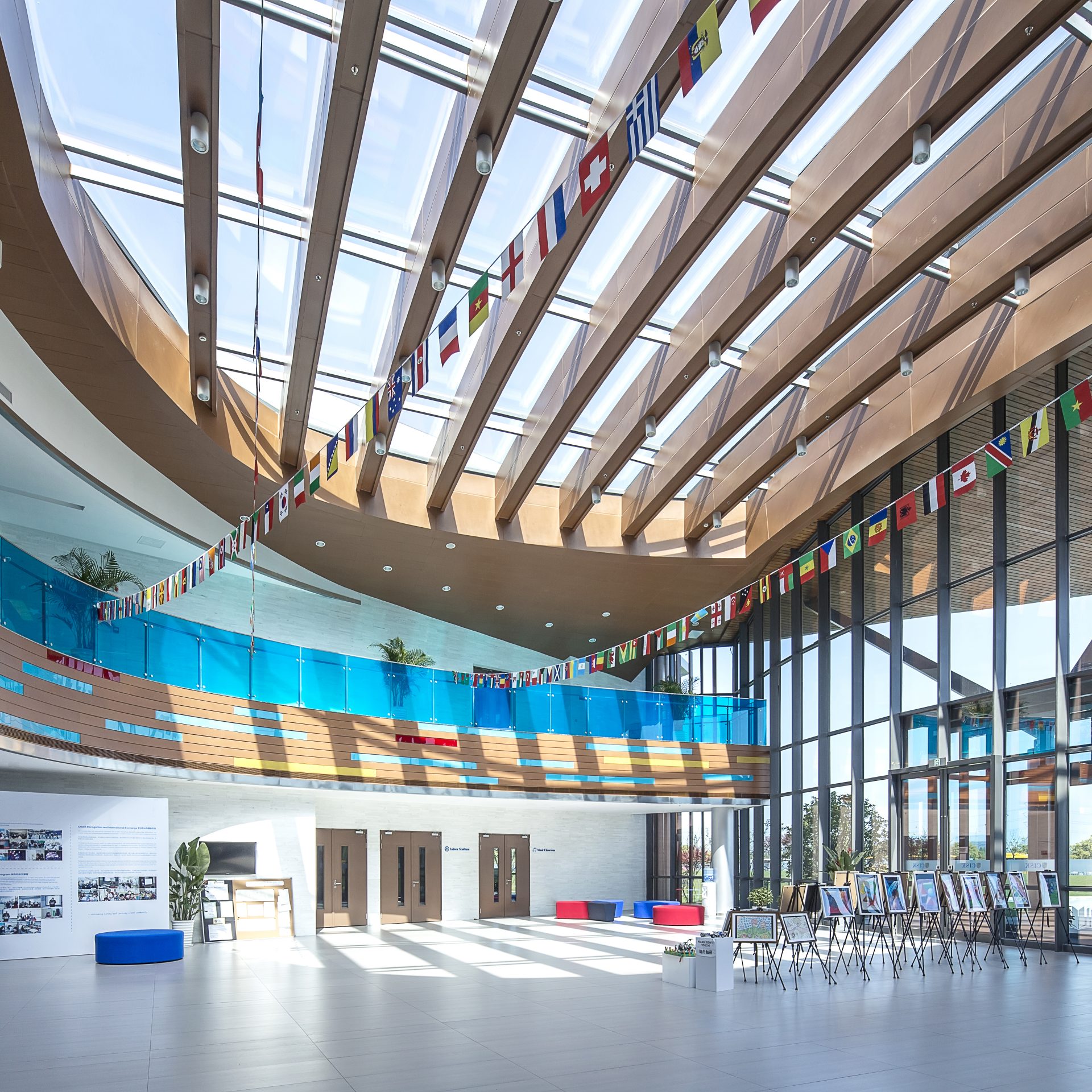 We placed safety, wellness, and sustainability as priorities in our design. The use of soft or non-slip materials increases safety and is easily maintained. We sourced eco-friendly materials and incorporated natural daylight and views to increase productivity by keeping students engaged. We also worked with local engineering consultants to achieve water reduction, energy savings, and indoor air quality requirements that exceed China Two Star sustainable standards.